Polina Fridman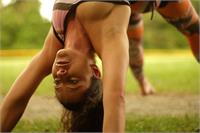 Polina, a native Latvian, grew up in Germany and came to the US in 2010. Besides her full time career in graphic design, she has a big passion for challenging sports. In 2013 Polina discovered her passion for pole fitness when she joined Vertical Addiction.
The physical challenges of pole, the fun and unique movement, inversions as well as the erotic part of the dance got her addicted to the art form. Her background in Capoeira and her dedicated training helped her progress quickly and today she is very happy and proud to be part of the VA instructors team.
Polina is looking forward to sharing her knowledge and diverse background with the students at the VA studio. Come and check out her new class 'floor fusion' where she combines sexy floor dance moves with strength and flexibility based moves of Capoeira into a flowing and challenging choreography. Polina believes that there is a gorgeous, loving and passionate goddess in each one of us and that it is up to us to make her light shine into this world; pole is one of the best practices to bring this inner goddess onto the surface and share our happiness with everyone around.
Polina Fridman instructs the following:
Time to loosen up and have some fun! "The Art of The Lap Dance," yes it is an art! Embrace your inner sensuality and learn a fun and sassy lap dance.

*No partner or experience necessary!
*shoes optional. If you chose to bring shoes they must be actual pole fitness heels.




This all level class focuses on progressions for increasing flexibility through major & minor muscle groups. Shoulders, legs, back & hips. Whether you are taking class to better your pole fitness abilities or you just want to have a great stretch, this class is for you!




In this class students will begin to work on basic inverts as well as progressions past the invert. There will be a focus on spin pole and various ways to climb.

This class is for students who are proficient in all basic climbs and spins, as well as basic inverts.




This class is a multi level class. It's for students who are at least in level 1 and know basic climbing and spins. Inverting is not a requirement. For the more advanced students progressions will be available.