Aileen Creagh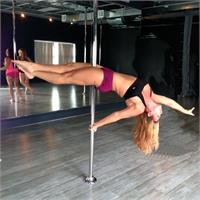 This mother of 5 took a pole class at Vertical Addiction almost 2 years ago and thought nothing of it other than it would be something fun and silly to try. Little did she know she was about to be hooked! Since that first class Aileen has become a committed pole athlete and even started competing, scooping up 2 gold medals in level 1. She is now a certified ElevatED pole fitness instructor and teaches for VA!
Aileen Creagh instructs the following:
Never taken pole fitness before; this class is for you! You will learn the fundamentals of pole fitness including different hand grips, walks, beginner spins, and the basics of how your body moves around the pole.

Typically takes 3-6 classes before you are ready for level 1.

*Shoes are not permitted in this class.