Elin Waterston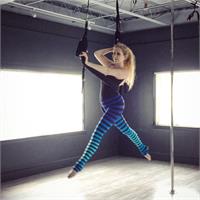 Elin started Ballet lessons at age three and has been dancing ever since. In 2008 Elin started practicing yoga and it became an important complement to her dancing - each discipline improving the other.
Intrigued by the concept of combining elements of dance, yoga and aerial arts, she decided to try aerial fitness. Her feet left the ground and it was love at first flight!
Elin enjoys the feeling of freedom and joyfulness that aerial fitness provides and is happy to share her love of being upside down. Elin is a certified Fly Gym Aerial Fitness® Instructor / Master Trainer, Mantra Flying Yoga™ Instructor, Climb&Spin® Pole Dance Instructor and LaBlast® Ballroom Fitness Instructor.
Elin Waterston instructs the following:
Aerial Flow (or Aerial Yoga)
Using the aerial hammock, students flow through a series of postures and exercises, both traditional yoga poses and more circus-like, playful moves. The hammock facilitates deep stretching, helps build strength and, because of it's high "play" factor, can reduce stress - a physical practice, but with a deep commitment to the mind-body connection.