Ashley Popoli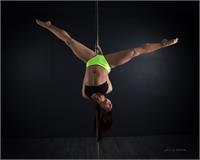 Ashley Popoli is the owner of Vertical Addiction, an aerial fitness studio in Stamford, CT.
With a background in competitive gymnastics and a bachelor's in business management, fate had it that Ashley would love pole dance and eventually open her own studio. As she quickly began training under the direction of Kyra Johannesen, Popoli soon found herself competing once again, this time not on a tumbling mat but on a pole!
Ashley won her first competition landing herself a cover shoot and interview in Pole2Pole magazine. She went on to win the first amateur division of the Supershag Competition in 2013. Last year Popoli was chosen as one of the 8 female finalists for the first US Aerial Championship in NYC.
Popoli continues to grow her studio in CT and is excited to open her second location this year.
Ashley Popoli instructs the following:
You must at least be in level 1 to take this class.

In this class the instructor will begin with a basic movement or sequence and continue to build upon it to cater to all levels.

*Inversions are utilized in this class.




Some tricks always end up stealing the show. Come prepared to learn shapes that look amazing in photos and get all the Ooohs and Aaaahs! Students must be able to invert.

*Must be level 1 and higher to take this class.




This all level class focuses on progressions for increasing flexibility through major & minor muscle groups. Shoulders, legs, back & hips. Whether you are taking class to better your pole fitness abilities or you just want to have a great stretch, this class is for you!




In this all level class students will learn various exercises to build strength and prepare them to invert properly on both sides. They will also review proper ways to complete fundamental movements. There will be a strong focus on conditioning exercises.